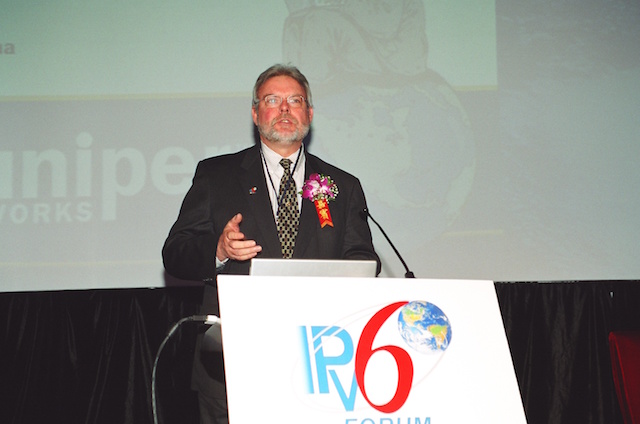 I've been in the networking industry in one capacity or another for over 30 years as a consultant, instructor, architect, author, and speaker.
Which is a dignified way of saying I'm an old coot who will blab on endlessly about networking to anyone who will listen.
Especially about IPv6. I'll usually slip in something about IPv6 no matter what we're talking about. In fact I've been berating network operators about the necessity of IPv6 since the late 1990s when finding an interested audience meant traipsing around Japan, China, and Korea.
I'm continually interested in technology trends and where the networking industry is going. So in the early 2000s I was writing and lecturing regularly on MPLS and network consolidation, when all that was new and cool.
These days my excitement is focused on SDN, NFV, large-scale fabrics, and Intent-Based Networking. But I'm still likely to get in something about IPv6 too.
The Long Version, If You Care
Specializing in IP routing protocols, large-scale BGP policy, MPLS, SDN/NFV, data center fabrics, and IPv6, Jeff Doyle has advised service providers, telcos, enterprises, and government agencies in 26 countries across 6 continents.
He's an IPv6 Forum Fellow, a co-founder of the Rocky Mountain IPv6 Task Force, and serves on the executive board of the Colorado chapter of the Internet Society.
Jeff is the author of
CCIE Professional Development: Routing TCP/IP
, Volumes I and II;
OSPF and IS-IS: Choosing an IGP for Large-Scale Networks
; a co-author of Software Defined Networking: Anatomy of OpenFlow; and is an editor and contributing author of
Juniper Networks Routers: The Complete Reference
. He has also written for publications such as Forbes, Network World, Information Week, Network Computing, CED, and China Info World.
Jeff is currently is currently a Member of Technical Staff at
Apstra
. Previously he has been Modern Networks Evangelist with Big Switch Networks, VP of Engineering at Torrey Point, and President of Jeff Doyle and Associates.
Prior to beginning Jeff Doyle and Associates, Jeff was with Juniper Networks for 8 years. He was a Senior Network Architect with Juniper's Professional Services organization, and for the last two years was the JUNOS Product Marketing Manager. Jeff was also a corporate spokesperson for Juniper, speaking at technical forums and in media interviews worldwide.
Before Juniper, Jeff was a Senior Network Systems Consultant with International Network Services, where he also specialized in IP routing protocol design.
He got his start in networking at US West !nterprise Networking Services where he was a Tier III Customer Services Specialist, a Certified Cisco Systems Instructor, and CCIE #1919.
Jeff holds a BA from Memphis State University, and studied Electrical Engineering at the University of New Mexico. Jeff lives in Westminster, Colorado with his wife, four children, and four grandchildren.